Prices for Commissions
Prices below are for individual horse commissions. If you have any special requirements, including different paper size, multiple horses, or would like something special, please get in touch to discuss what you'd like - Really anything is possible!
29.7cm x 21cm
42cm x 29.5cm
20.5cm x 14.5cm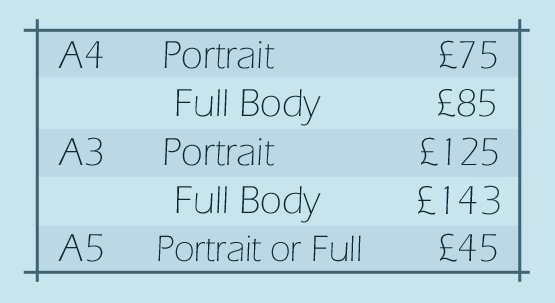 * Print Prices & Examples available soon.
Commission Postage detailed below
I also offer the option to have your commission mounted and/or professionally framed at additional cost. Please contact me for prices. Also available for prints
Process
Send all photograph(s) you would like used for your commission, along with any other information I may need, for example any changes, such as removal of tack, blemishes. I do not charge extra for this. You may send your commission details & photographs via email, the form below or post. Contact for postal address. All photographs posted will be returned with the artwork
A 25% non refundable deposit is required before any work is started. Payable by cheque or paypal.

Vouchers may be used as full or part payment. For part payment, the remainder of the cost (as detailed) will be required before posting

8 weeks is preferred to complete the commission. On average a commission takes 25-30 hours to complete. If you need the gift in a rush, please contact me as soon as possible. Gift Vouchers are also available upon request if you aren't able to get the photographs or have the time.
I will update you on the progress of the commission, and will send you a final scanned image of the commission before I post it out, to ensure you are 100% satisfied. I will then send you the invoice for the final amount (no hidden extras!)
Your picture will arrive in safe packaging. You may also request it to be sent elsewhere if it is a gift. Please also take the time to let me know that the artwork has been received, and any feedback comments will be hugely appreciated. I am confident you will be delighted with the likeness to your horse.
* Please ensure all photos you send to me for use as reference or to be drawn from, are clear as possible - I can only get so much detail from a small / grainy image. I can create a new pose if I have several images to work from.
** If you are the lucky recipient of one of my gift vouchers, Please state the code on the back when sending your order.
Postage
Postage is £4 for all unframed work - this includes safe packaging tubes to ensure your commission arrives to you undamaged. All artwork is posted as Signed For unless requested otherwise. Please contact me for framed-work postage prices.
Gift Vouchers
Vouchers make an excellent gift if you are unable to get hold of a photograph to use as a commission. They may be used as full or part payment. They can be used for all paper sizes (Choice of the Voucher receiver).

To order a Gift Voucher, simply contact me by email or form below including amount & receiver name for the Gift Voucher, Payable by cheque or paypal, you may request for them to be emailed or posted (no extra charge) to any address.

Standard vouchers available are; £5, £10, £15, £20, £50 - You may request/purchase any amount.
Ordering
You may send orders & photographs to emily (at) theequineartist.co.uk or contact me via the contact page.